Hakuseisya Uniform Rental Services
The best solution for uniform troubles at workplaces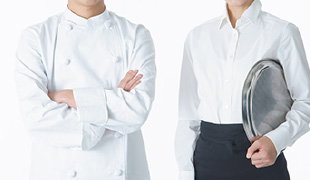 A uniform is an essential element at workplaces. Clean uniforms improve the atmosphere and workers' motivation at your workplace. However, uniform management needs time and cost. You may purchase uniforms at each recruitment and dispose of it at each retirement. You may also need storage spaces for uniforms.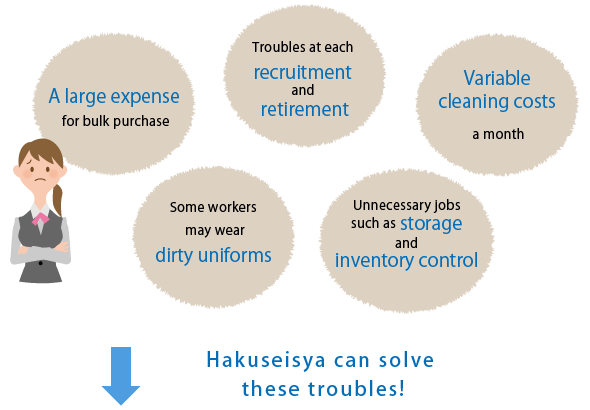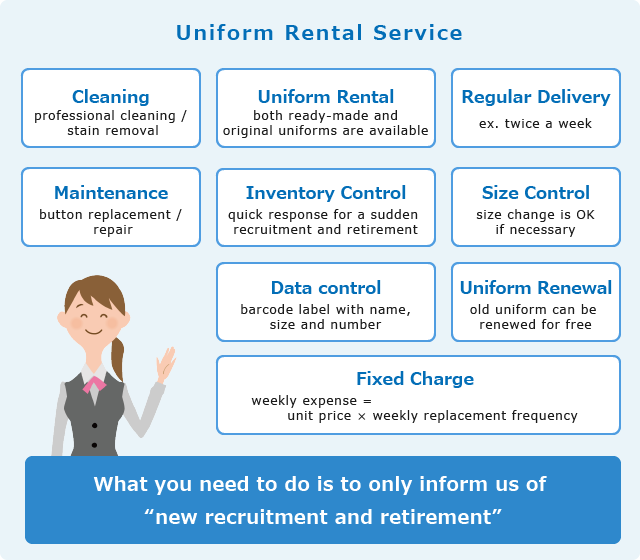 We provide several uniform services according to your requests
individual rental : exclusive use for one individual worker
size rental : Quantity rental by size. Ex)10 M-size uniforms and 20 L-size uniforms
cleaning service only.
Rental Service Flow
A flow of our uniform rental service is shown below. We propose a proper plan for your needs, so please inquire us now!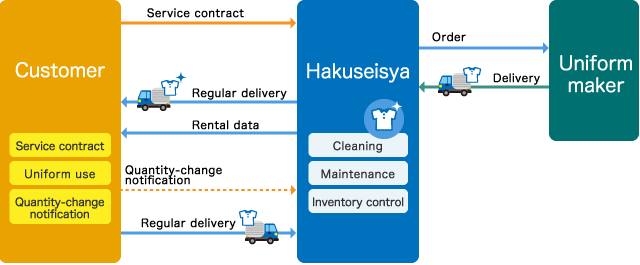 Charge Method
Rental
Monthly charge = rental quantity per person x weekly changing frequency x 4.3weeks
Lease and Cleaning
Monthly charge = uniform quantity x monthly lease fee + clening price
Cleaning
We also provides washing and delivery services. In this case, a customer needs to prepare uniforms.
We charge based on the number of washed items.
Production Equipment
Production Equipment
4 automatic washing extractors (30kg)
5 automatic dryers
1 Dry-cleaning machine
Pressing machines
1 Path through dryer
Water Softener
Hakuseisya uses the latest water softener for cleaning water so that the laundry is finished with high whiteness and softness.